Financing Options
WE WILL WORK WITH YOU TO EXPLORE ALL OF YOUR OPTIONS
Whether you have dental insurance or not, many services aren't covered. CareCredit can help you get the healthy, radiant smile you've always wanted with low monthly payment plans.
If we recommend a procedure your wallet's not quite ready for, or you want cosmetic dentistry to show off your pearly whites, you can get your procedure sooner with the card designed for your health and beauty needs. You can also use CareCredit for follow-up appointments or different procedures. So feel free to put a big smile on your face.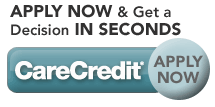 We're pleased to offer our patients CareCredit, North America's leader in patient payment plans. CareCredit lets you begin your treatment immediately – then pay for it over time with low monthly payments that fit easily into your monthly budget.
IN-HOUSE FINANCING AVAILABLE
If you are Looking for Implant Financing in Las Vegas and you have less than perfect credit, no credit, or any financial hardship, in many cases,we can work with you to find options that fit any budget.
We strive to make Dental Care affordable!
FLEXIBLE SPENDING ACCOUNTS
Flexible Spending Accounts Can Be Used for Your Dental Implant Surgery!
Depending on your tax bracket, using an FSA to pay for Dental Implant Surgury could save you significantly. Check with your benefits manager at work to find out if Flexible Spending Accounts or Health Spending Accounts are offered by your company.
Planning & Your FSA
It will be important to decide how much of your salary you want deducted from each paycheck – this money is exempt from federal, state, and Social Security taxes. This money will be deposited in your Health Care FSA. Most companies allow you to spend the money any time during the year, even when it has not fully accumulated in your account. FSA funds that are not used, get forfeited at the end of the year.
HEALTH SPENDING ACCOUNTS
How Would I Benefit From Using My HSA?
Many patients see an enormous win when they use their Health Spending Accounts for cosmetic dental treatment: their tax-free funds pay for their cosmetic procedures, and patients get to take advantage of the portability of their Health Spending Account.
What is an Health Spending Account?
HSAs or Health Spending Accounts were created to encourage people to save for their retirements and medical expenses. Many patients take advantage of HSAs, because their accounts became tax-free through continued investment, and patients know any investment remaining, after paying for their procedure, won't be forfeited when the year ends. HSAs are well-known for their portability and that HSA funds do not get forfeited like Flexible Spending Accounts – HSAs are, more often, compared to IRAs and savings accounts.
Who Should I Talk to About Better Understanding My HSA?
We strongly suggest to you, as our patient, to communicate with your benefits manager or to your HR department, to determine and fully understand any details regarding your HSA.